Air Filtration Regulators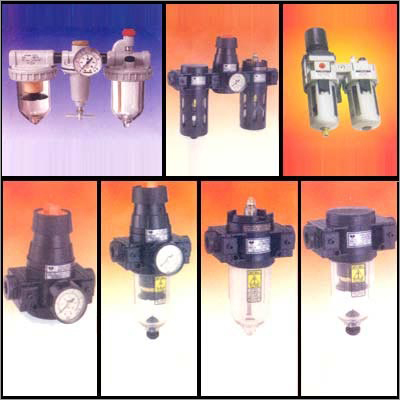 Air Filtration Regulators
Product Code : UHP-09
Brand Name : UNIVERSAL HYDRAULICS & PNEUMATICS
Air Filtration Regulators

Suitable for all general pneumatic applications, these Air Filtration Regulators are well known due to their high flow capacity and efficient lubrication. Manufactured from the finest quality raw materials and the latest machines, these regulators are also properly checked on predefined parameters of quality at the vendors end. In line with clients different choices, we provide these regulators in numerous specifications to choose from. Apart from this, we provide these Air Filtration Regulators to our clients at feasible rates.

Our range of Air Filtration Regulators and Lubricators available in following

Moister Seperature

Auto Drain Valve

Oil Removal Filter

Mist Filter

Water Filter

Air Drier

Water Cooler

Precision Regulator

Pressure Reducing Valve

High Pressure Air Regulator

Nitrajan Regulator

Arogon Regulator Filter
Features
Compact design saves space & cost

High Flow capacity

Choice of Filter elements

Standard 40 micron filter element

Optional 25 & 5 micron filter elements' Shatter-proof polycarbonate bowl with bowl guard standard

Bowl Capacity: 75c Standard

Maximum pressure of l0 bar at 50 for polycarbonate bowl

Aluminium metal bowl optional

Screw-on type bowl permits easy removal 7 installation

Maximum pressure of 17 bar at 80C for metal bowl

Minimum pressure drop

Efficient dust & moisture removal

Manual drain standard

Automatic drain optional

Threaded ports - BSP pipe threads standard - NPT & BSPT optional

Weight: 1075 grams Regulator.
Features
Balanced piston design for sensitive control

Design provides high flow capacity with low-pressure drop

Non-rising type low - torque finger tip control

Servicing possible without removal from air line

Simple locking arrangement of set pressure

Self-relieving for secondary pressure

Choice of secondary pressure ranges

0-10 kg / cm2 standard

0-7 kg / cm2 optional

0-4 kg/cm2 optional

NPT gauge port on both sides standard

Maximum temperature: 800oC

Pressure gauge: optional

Weight: 1400 gms with pressure gauge 1260 gms without pressure gauge
Lubricator

Features
Efficient lubrication

Automatic oil drip feed rate proportional to flow

Large opening for easy oil filling

Full view transparent sight dome for oil feed rate indication

Precision needle valve for accurate oil feed rate adjustment

Standard bowl capacity: 19cc.

Shatterproof polycarbonate bowl with bowl guard standard aluminium metal bowl optional

Maximum pressure of l0bar at 50 for polycarbonate bowl

Maximum pressure of 17 bar at 80 for metal bowl

Threaded Ports: BSP pipe threads standard

NPT & BSPT optional

Care must be taken to fill clean lubricating oil with adviscosity of 100 200 S.S.U. at 100F (SAE 10 for most applications)
Filter Cum Regulator

Filter and Regulator are One Compact Unit
All other features of separate filter or regulator

Filter regulators for all general pneumatic applications.

High performance design provides high flow
All units are powder coated for excellent surface 3 finish and durability. All bodies are made from corrosion resistant pressure die cast aluminum alloy.