Hydraulic Hoses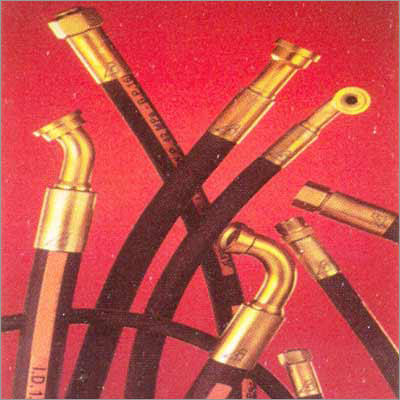 Hydraulic Hoses
Our firm is instrumental in supplying an excellent quality range of Hydraulic Hoses. Our provided hoses are widely used in high pressure fuel lines, fuel oil, antifreeze solutions and air and water. At our vendor base, these hoses are manufactured using quality synthetic rubber and raw material and find their application in various industries. While manufacturing these hoses our vendors' lay prime emphasis on their quality & durability. We provide these Hydraulic Hoses to our clients' at most reasonable prices.
Features:
Crack resistance

Precise dimensions

High strength

Durability
High Pressure Hydraulic Hoses

Super Seal

Size: 1/4" To 2"

Pressure: 0 To 10000 Psi

Type: R1 (Single Wire Braided), R2 (Double Wire Braided), R3 (Raylon Braided), R6 (Textile Braided), I V SP and Iv SH (4 High Tensil Sprial Braided)

Temperature: 40oC To 135oC

Application: Air, Water, Hot Water, Hydraulic Oil and Industrial Application.
Steam Hose (Wire Braided)
Type: Single Wire ( 0 To 185oC), Double Wire (0 To 220oC)

Size: 1/4" To 2"

Pressure: 0 To 16 Kg/Cm2

Application: For Uses on Hi-Temperature Fluids and Steam.
Jack Hose
Size: 1/4", 3/8"

Pressure: 0 To 10000 Psi

Application: Hydraulic Jack Application Used With Jacking Systems.

Tube: Black Oil Resistant Synthetic Rubber.

Reinforcement: 2 High Tensile Steel Wire Braid.

Cover: Black, Oil and Abrasion Resistant Synthetic Rubber.

Temperature Range: -40oC To 50oC
Low Pressure Metal Braided Hose
Size: 1/4" To 2"

Type: Outer Metal Braided Inside Rubber Hose

Pressure: 0 To Maximum 400 Psi

Application: Low And Medium Pressure applications For Hydraulic Oil, Fuel, Lubricating, Oil, Water and Air.

Temperature: -40oC To 120oC